AGRONOMIC
SUPPORT
YOU CAN TAKE
TO THE FIELD
Survey Shows Tar Spot Tops Farmers' Corn Disease Worry List
Tar spot continues its march across the Midwest, with the telltale black specks putting more and more farmers on high alert. A new survey1 confirms tar spot has their full attention.
Over half of the nearly 400 farmers surveyed this fall cited tar spot when asked about diseases that may impact corn in their area, with one-third of the respondents naming tar spot first. Commissioned by AgReliant Genetics and conducted by Kynetec, survey findings were unveiled at AgReliant Genetics' premiere Tar Spot Summit.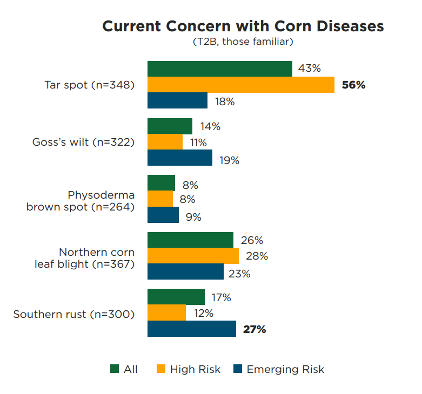 Farmers' tar spot concern eclipses worry about other diseases like northern corn leaf blight, southern rust and Goss's wilt, especially in states where tar spot is prevalent like Minnesota, Iowa, Wisconsin, Illinois, Michigan, Indiana and Ohio. Fifty-six percent of the farmers in these high-risk states are very or extremely concerned about the disease, distantly followed by northern corn leaf blight at 28%.
While concern about tar spot is high, survey results indicate farmers need more information on how best to manage the disease. "Your LG Seeds agronomist has first-hand experience with tar spot and hybrids that can be used to manage it," says Phil Brunner, sales agronomist at LG Seeds.

"Managing tar spot involves a compilation of strategies, starting with genetics and desired tolerance ratings and considering how those fit with a farmer's fungicide program and other farming practices," Brunner says. "Figuring that out will require more grass-roots education and one-on-one discussions with our farmer customers."

Dryness limited tar spot's yield impact in 2022, but farmers remain anxious
Despite a relatively dry growing season in 2022 that limited tar spot's impact, 71% of the farmers surveyed expressed heightened concern about the disease, primarily due to its rapid spread. The survey found half of the respondents had detected tar spot on their land at least once, with 90% of those hit by tar spot experiencing yield loss.

The late arrival of the disease limited its impact on yields in 2022. However, the mean percentage of acres impacted across years of grower experience was high at 40%. That signals the potential for a major outbreak if the 2023 growing season is wetter.
Knowledge gap exists, but farmers plan to lean on tolerant hybrids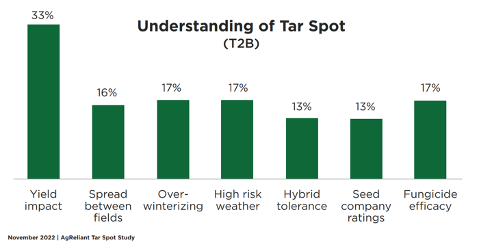 While farmer awareness and concern about tar spot is high, the survey also revealed uncertainty about the disease mechanism and how to manage it. Just 16% of survey respondents said they understand how tar spot overwinters, 17% understand how it spreads or under what conditions, 13% understand hybrid tolerance or tolerance ratings, and 17% understand fungicide efficacy.

One farmer's comment about managing the disease demonstrates that uncertainty: "We had a major outbreak in 2021. In 2022, we applied fungicide, but there was practically no incidence of this disease in our area. Now we are unsure if it's necessary to spray."

Many farmers do understand the importance planting hybrids with tolerance to tar spot. Seventy-one percent of the respondents plan to plant hybrids with high tar spot tolerance scores in 2023, a 24-point increase over the percentage currently using tolerant hybrids that speaks to the rapid spread of what can be a hard-hitting disease.

The survey showed more than two out of every five farmers expect hybrids with high tar spot tolerance scores to offer at least 75% control of the disease. That stood out to Brunner, who says it affirmed our ranking system aligns with farmer expectations. "LG Seeds will use those control expectations "to fine-tune our tar spot ratings and improve our conversations with farmers about products for fighting the disease," he says.

"Our agronomists are out walking these hybrids alongside our breeders and research team two years before they ever get into the field. As a result, we have a good handle on how hybrids handle tar spot from the start," Brunner says. "That level of interaction as well as our involvement in ratings and decision-making is a major differentiator for our brand."

Farmer must weigh many factors when choosing hybrids
Brunner says one of LG Seeds' best tar spot tolerant hybrids is LG59C72. The 109-day hybrid has particularly good genetic tolerance that helps farmers reduce the disease's impact.

As always, farmers need to weigh tar spot tolerance with other hybrid characteristics. Yield goals, test weights, soil profiles and other disease threats must all factor into that decision.
Getting the best hybrid on a given acre for a specific farmer can be a balancing act.

"That's why it's so important that we focus on working one-on-one with our customers, checking as many of their farm-need boxes as they can and incorporating the genetic diversity essential to spreading a farm's weather and disease risk," Brunner says. "We love partnering with farmers to make that happen."

Reference: Bellinger, M. and Clyne, D. AgReliant Genetics Tar Spot Study. Kynetec. Nov. 10, 2022.